Meet Cara
You Can Liberate Your Inner Badass!
Hey there, I'm Cara, and channeling my personal badass is why I live proudly, happily, and unapologetically with my chronic illnesses.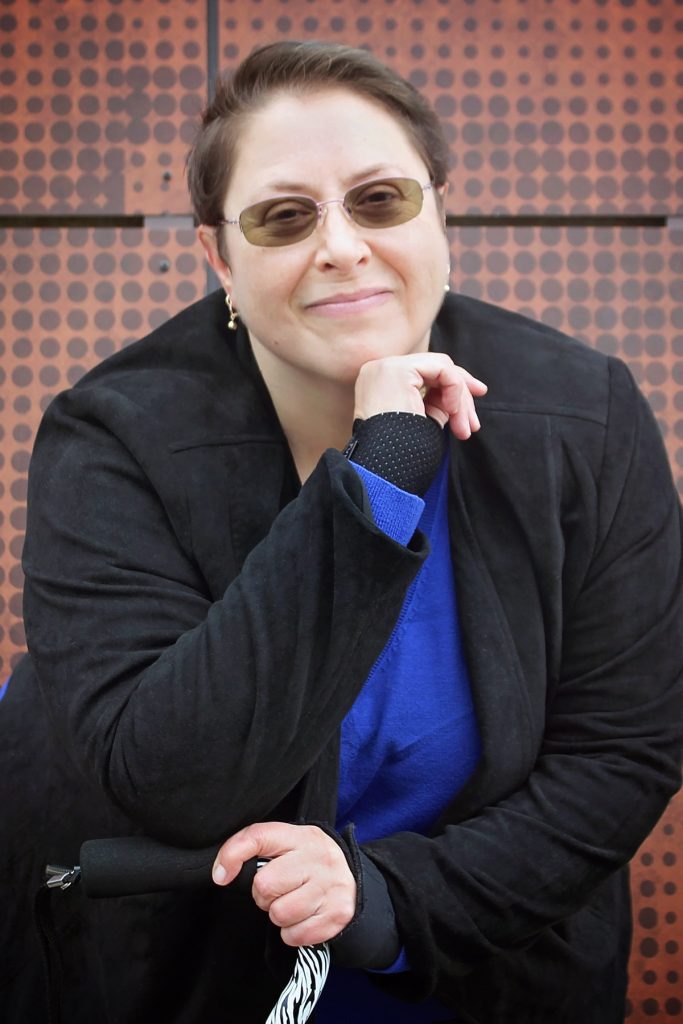 Since you're here, I'm guessing you're looking to revamp your strategies for flourishing while chronically ill.
Thanks for visiting! I'm here to help.
I didn't always live this way. I've had severe chronic pain, unstable joints, crappy balance, and fragile skin my whole life. While I could usually manage to "pass" as healthy, I discovered that doing this was destroying my body and mind. That acute awareness of never quite measuring up to the yardstick of "normal" took a huge toll.
Finally, I discovered how to claim my inner badass, which is essential to living dynamically with a chronic illness.
Now, I want to help you redefine your relationship with your illness – and the world – so you can make choices that lead to a more fulfilling life.
I'm excited to work with you to help you explore and challenge old ways of thinking, to value and honor all parts of yourself, and to consciously choose and create your path.
YOU CAN TOTALLY DO THIS!
If you want a coach who never struggles… well, that's not me.
(And honestly, no coach worth their salt has "everything figured out".)
But if you want a coach who truly knows what it means to live every day with a chronic illness, is continually learning, growing, and loving life… AND has the skills to help you do the same, let's talk!
My Story
Badass-ery is an Active Process
It's the act of striving to be your most whole and authentic self at all times.
And it AIN'T easy.
I tried to do everything right and blend in with everyone else for decades. Sharing my vulnerability and – God forbid! – showing my limitations felt like shouting "hey everyone – I'm NOT NORMAL" … and inviting the whole world to judge me.
Coming out as chronically ill was one of the best – and hardest – decisions of my life.
I gave myself permission to stop regarding my happiness as optional, and my needs as an afterthought.
This enabled me to connect with others in unique and amazing ways.
Being chronically ill is how I found passion and purpose.
Instead of seeing my life and illness as tragic and sad, I found deep gratitude, joy, and pride.
Without hitting rock bottom, I wouldn't have discovered my passion for coaching, and invested in coach training.
There are no "useless" experiences… everything enriches everything.
Badass-ery means choosing to find the value in ALL your experiences.
Life doesn't have to end because of a chronic illness, and you don't have to choose between living and your health.
Your chronic illness can teach you new things and take you places you never would have gone.
It's not a detour. It's a path of opportunity.
Here's the path my illnesses led me on and the valuable lessons I have learned along the way:
My Experiences & Accomplishments

My Biggest Takeaways

Getting my B.A. in Psychology while working 30 hours per week – on my feet the whole time

➜

• People are fascinating and I love going below the surface to understand them.
• Standing HURTS and too much of it is not good for me.
Training and working as an American Sign Language/English interpreter

➜

• Language is powerful.
• Empowering others is more effective and fun than doing for them.
• (and standing still hurts)
Being a Peer Advocate Counselor for disabled folks before I ever thought of myself as disabled

➜

• Disability isn't "bad" or "weak".
• Disability can actually be very valuable (who'da thunk it?).
Coming out as a lesbian

➜

• Being my authentic self is a choice I make every moment of every day.
Not working and relying on Social Security Disability

➜

• Living means growing (even if it's invisible).
• Value is not determined by a paycheck.
• Stepping back to gain perspective and strength is invaluable.
Surviving many years of abuse and a very toxic family

➜

• I can push myself INCREDIBLY hard, and there's always a price to be paid.
• EVERYTHING is a choice (even if I don't want to see it that way).
• Sometimes it takes going through hell to get to an amazing place!
FINALLY being diagnosed with Ehlers Danlos Syndrome (a genetic connective tissue disorder) at age 46

➜

• Trust my body!
• I'm the only one in it 24/7/365.
• I KNOW it better than any expert!
Studying at the Institute for Professional Excellence in Coaching (iPEC) which resulted in two certifications:
• Certified Professional Coach (CPC)
• Energy Leadership Index Master Practitioner (ELI-MP)

➜

• People are freakin' amazing!
• Everyone has all their own answers inside them (even if they can't find them right now).
• Every person is far greater than they appear to be.
• There is no "better" or "worse", just "effective" and "less effective".
Working with amazing coaching clients!

➜

• People with chronic illnesses are the biggest badasses on the planet!
• Every person is both my teacher and my student.
• How to co-create with the Universe to achieve powerful results.
• Doing my own personal work every day is essential to my clients' success.
I now consciously design my life and choose people, activities, and thoughts that support my health and give meaning and happiness to each day.
I'm passionate about Hungarian cooking and baking, they keep me connected to my heritage and its richly beautiful traditions.
My bonsai trees (I currently have 4) reinforce my conviction that it is possible to thrive beautifully even after being forced into unexpected situations and surviving hellish experiences.
Practicing calligraphy helps me connect with my quiet center, and the uniqueness of each character confirms that cookie cutter approaches are best left to factories and baking.
(And yes, that's my calligraphy in my logo!)
Making big changes can feel overwhelming. BUT, making big changes can also feel empowering!
A year from now, how will you feel if you're still in the same place, struggling with the same stuff? Well, you don't have to find out!
In order to stop feeling like sh*t, you have to DO sh*t!
Let's tackle the sh*t together and get you to f@cking fabulous as soon as possible!

"Don't wait for your feelings to change to take the action. Take the action and your feelings will change."
~ Barbara Baron